A brief overview of 4 days in a New York recording studio in September 1974 when Bob Dylan commenced work on his masterpiece album, Blood on the Tracks. The full story of these sessions, take by take, is told in Clinton Heylin's monograph No One Else Could Play That Tune: The Making Unmaking of Bob Dylan's 1974 Masterpiece.

Monday 16th September 1974
'It looked like old times at Columbia's A & R Studio September 16th. John Hammond Snr. was there. Phil Ramone was working the board. Eric Weissberg and Barry Kornfeld, two old Gaslight regulars, were unpacking their guitars. And sitting out in the cavernous studio … practically hidden behind a battery of six microphones, Bob Dylan was creating another album. And it was almost as if Dylan were consciously conjuring up the ambience of the early sixties.' – Larry Sloman, Rolling Stone
On 16th September 1974, Bob Dylan entered A & R Studios in New York to begin recording Blood on the Tracks. The studio was of course the magical place where he recorded his first 6 albums. His original producer John Hammond joined him in the studio on this night, an 'historic moment' for them both. Also with Bob was his girlfriend Ellen Bernstein. Studio boss Phil Ramone was at the engineer's desk, with Glenn Berger as his assistant. Bob started the session warming up to the task with just himself, guitar and harmonica, reaching for the voice that would define Blood on the Tracks.
As I ran around the studio tweaking mic positions, he called off a tune. 'Let's do "Tangled Up In Blue" in G.' He hit his guitar, but instead of a G chord, it was an A. He was playing in a different key from the one he had called off and the lyrics were [to] 'If You See Her, Say Hello'. – Glen Berger, Assistant Engineer
Including that first take of 'If You See Her, Say Hello', he recorded 6 songs over 10 takes solo before being joined in the studio by Eric Weissberg's band Deliverance, with whom he tackled 4 songs in 13 takes. There was little in terms of rehearsal, and the band were left to watch Bob's hands for chord changes as he ploughed through the takes; no so easy with him playing in open tuning. One of the takes – 'Meet Me In The Morning' – made it through to the final cut of Blood on the Tracks and another – 'Call Letter Blues' – was later released on Bootleg Series Vol. 1-3. But it was the attempts of 'Idiot Wind' and 'Tangled Up In Blue' with just Bob and Deliverance bass player Tony Brown that would ultimately set the tone for the rest of the album…
Tuesday 17th September 1974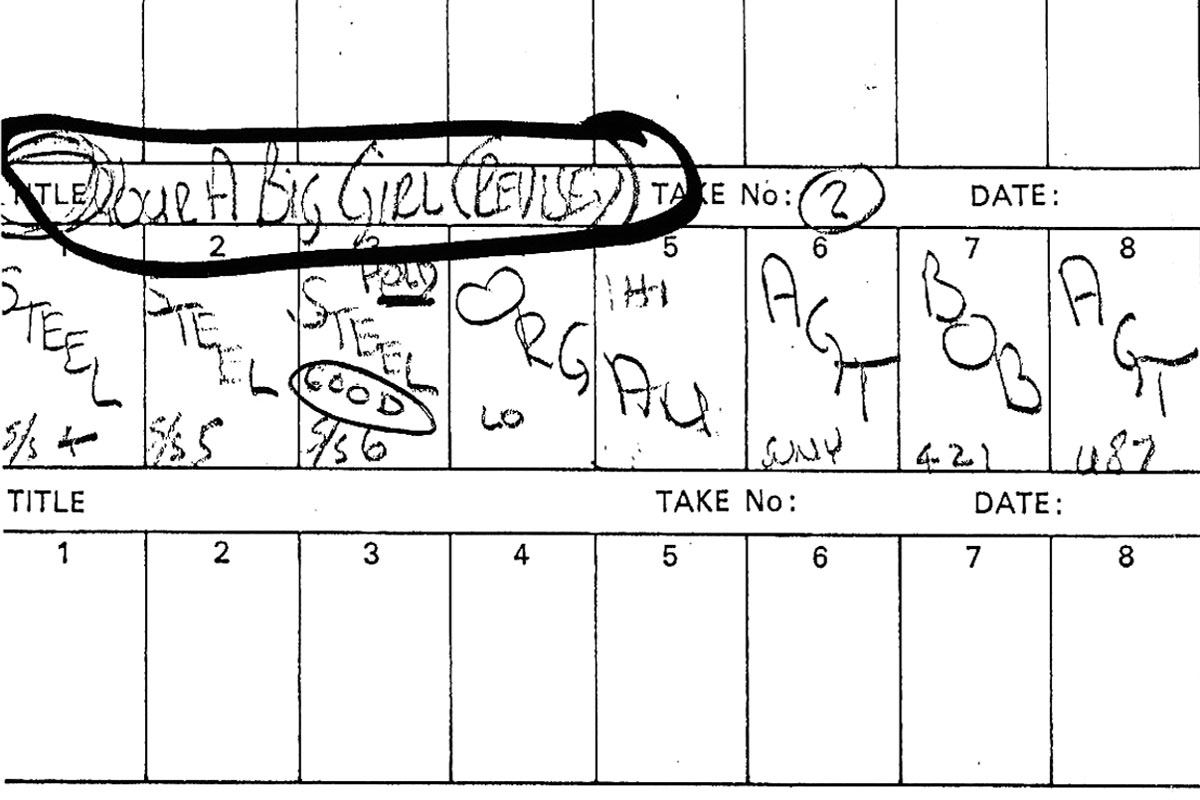 Dylan knew his vision for these songs, [which] was very pure and unadorned … Bob lived these words as he created them. Most of the tracks grew and changed organically … He knew as soon as he heard something whether or not it was what he was going for. It never took him more than one time to know … He worked so instinctively, more so than anyone I've ever worked with. – Ellen Bernstein, Columbia A&R person & girlfriend.
The feel for the album's sound was starting to take shape on the second day of recording, with bass player Tony Brown the only member of Deliverance invited back for the session. Keyboardist Paul Griffin came in to try organ and piano on a few takes, sometimes with Brown, sometimes without. There was a change in the assistant engineer's chair too, Glenn Berger who had sat in the chair on the 16th had moved next door to work with Mick Jagger on mixing a Rolling Stones live tape for radio broadcast. His chair was taken up by Rich Blakin.
In all there was less than half the takes of the previous day, but the session was no less productive. Five songs intended for the album were attempted over 13 takes, plus one warm-up cover. From this session, the fourth take of 'Shelter From The Storm' and the third take of 'You're Gonna Make Me Lonesome When You Go' made it all the way to the released album. The second take of 'You're A Big Girl Now' was released later on Biograph and the second take of 'Tangled Up In Blue' was released on Bootleg Series Vol 1-3. An edited version of the first take of 'Shelter From the Storm' recorded this day featured on the soundtrack to the film Jerry Maguire.
By the end of the day, all 12 songs in consideration for the album had been attempted.
Wednesday 18th September 1974
On the third afternoon, Dylan was not so sure of himself and all he had wrought. As they began to mix songs from the master reels, a few takes fell foul of the review process, perhaps reflecting a darker mood on Dylan's part. Engineer and studio chief Phil Ramone was busy mixing tracks pulled to master from the previous two days, and pedal steel player Buddy Cage was brought in to add overdubs on a few of the takes. As far as recording goes, this was the least productive day of the four. Bob had a go at recording 'Buckets of Rain' under the gaze of Mick Jagger in the control room, but abandoned it after four attempts. He left the studio early to go watch a concert and think about what he needed to do the following day to get the album he was hearing in his head.
Thursday 19th September 1974
Dylan cut the whole [album] in six hours on a Monday night … Then came back in on Tuesday and cut most of [it] again … That seemed to work, but it turned out not … On the Thursday, we recorded the album for a third time … Now that blew my mind. – Glenn Berger, assistant engineer.
On this fourth and final day of recording on the Blood on the Tracks New York sessions, a revivified Dylan was determined to finish what he had begun on the Monday. Starting proceedings at seven, he recalled Tony Brown, and Brown alone, to (re)capture the last few tracks. However, if Brown was thinking this will be like Tuesday – fourteen takes and home – he was soon disabused. It was 3.30am before Dylan was satisfied. By then, he and Brown had endured a recording marathon, capturing eight songs whole over a multitude of takes. Mick Jagger was once again looking on.
By the end of the evening, they recorded takes of 'Buckets of Rain' and 'Simple Twist of Fate' which would make it all the way to the final album. They also got takes of three further songs that would make it to the original test pressing of the album: 'If You See Her, Say Hello', 'Tangled Up In Blue' and 'Idiot Wind'. Bob had his album… for now. Three months later a last minute change of heart would propel him to Sound 80 Studio in Minneapolis to rerecord five of the ten tracks that would appear on the released album. But that's a different story…

The complete recordings from the sessions are available on the Bootleg Series release More Blood, More Tracks. For the full story on these historic sessions, let Clinton Heylin be your guide in his No One Else Could Play That Tune: The Making and Unmaking of Bob Dylan's Masterpiece. After tracking down and interviewing just about every eye-witness still standing, and spending time at the Bob Dylan Archive in Tulsa with the two working notebooks of the songs, Clinton has created a highly evocative companion piece to the set. Available in limited edition hardback and Kindle editions.